Submitter
Submitted: Oct 21 2017 04:43 PM
Last Updated: Oct 21 2017 04:43 PM
File Size: 1.75MB
Views: 1455
Downloads: 65
Download Cash Blast (Voodoo Games)






0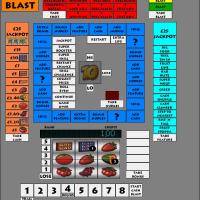 Now for something completely different! Voodoo Games take on the ever popular Barcrest Red/Blue trail games, Based on the classics Vamp it up/All Fired up & clones.
 
A thanks to Crazybar for testing/guidance, another blind machine for me so great to have the expertise of someone who knows the machine and to Vectra/Mavroz for their work on the reel symbols in the past.
 
Shortcuts in the layout notes, uses the lithograph font and as ever, if there are any issues please let me know so i can rectify them
 
Enjoy!
Other files you may be interested in ..
8 user(s) are online (in the past 15 minutes)
0 members, 6 guests, 0 anonymous users
Bing (2)
Cash Blast (Voodoo Games)