Submitter
Submitted: Apr 14 2012 06:15 PM
Last Updated: Jan 28 2014 06:03 PM
File Size: 8.56MB
Views: 7922
Downloads: 2345
Previous Versions
Download The Blues Boys DX 1.1





6 Votes

0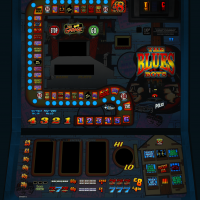 Now that Guitar has released the latest instalment of Amber, I can get this released. It's a DX for a popular BWB machine called The Blues Boys. A very tight machine that saves up for the repeater feature on the top. It's set to: £8/10p/92%/Arcade, £8/5p/92%/Arcade and £8/10p/92%/Single Site. So pick one that you prefer.
Huge thanks goes out to Guitar for everything concerned. Without him this would have never seen the light of day. He provided the emulator to play it on, and also the pictures and reels for the DX.
The shortcuts for this are:
Cancel/Collect - `
Hold/Nudge 1 - 1
Hold/Nudge 2 - 2
Hold/Nudge 3 - 3
HI - H
LO - L
Feature Exchange - F
Start/Gamble - Space
20p Token Insert - 9
£1 Insert - 0
Make sure all settings like Anti-Aliasing, and Texture Filtering are off to start with. You can play with the settings when the emu is loaded by pressing F1. F1 is for help, and will show you all the emulator shortcuts. Also make sure you have installed the latest version of Amber which will have the fixes for the meters. It should now be on the front-page of this site.
There are two zip files in all. One has the roms in it, and the other has got the layout in it. You need to place the roms files from the zip into the Libraries/ROMs folder. And the layout needs to go in the Libraries/Layouts folder. Do this before you load the emulator up.
If anyone has anyone problems/queries, post them here. Apologies for the release being late. There were some bugs that cropped up right at the end that took a while to find, and fix.

EDITED TO ADD: Layout has been updated to support the new alpha display type.
updated to the latest version of amber
of which now the layouts are pad files
Other files you may be interested in ..
22 user(s) are online (in the past 15 minutes)
0 members, 21 guests, 0 anonymous users
Bing (1)
The Blues Boys DX