Submitter
Submitted: Feb 08 2020 07:32 PM
Last Updated: Feb 08 2020 07:32 PM
File Size: 1.22MB
Views: 222
Downloads: 12






0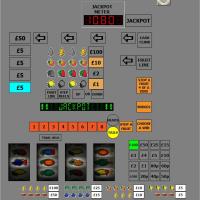 BFM Jackpot
Tech: SYS85

Here's another oldie clubber for you to play, it's a mid to late 80's machine with the classic beep boop's and also the retro 80's computer generated sound.

It does have some issues.
1. If the machine shows "SYSTEM ERROR XX" on the display, hold down CTRL+R to reset the machine.
2.This machine only pays in 10p & 50p, so larger wins may take slightly longer to pay out.

Keyboard shortcuts in the notes section of the emulator.

Thanks to Wizard for the emulator.
DAD for letting me use his BFMulator layout for guidance and reel bands.
The rom and image provider.

Please use MFME V19.8 or later to play.
Other files you may be interested in ..
8 user(s) are online (in the past 15 minutes)
0 members, 7 guests, 0 anonymous users
Bing (1)
BFM Jackpot