Submitter
Submitted: Jan 28 2020 06:45 PM
Last Updated: Jan 28 2020 06:46 PM
File Size: 1.43MB
Views: 436
Downloads: 24
Previous Versions
Download Crystal - Gold Fever






0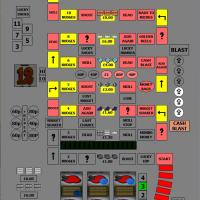 Crystal - Gold Fever by Clo06
Tech: MPU4
This time it's not a clubber, but a pub / arcade machine. It's a fun machine to play (I enjoyed playing it when we had it in our local). It's a gold mining themed machine with a great sound package too.
Keyboard shortcuts in the notes section of the emulator.
Thanks to Wizard for the emulator
The Rom and Image provider.
Please use MFME V19.8 or later to play.
Other files you may be interested in ..
7 user(s) are online (in the past 15 minutes)
0 members, 4 guests, 0 anonymous users
Bing (1), Google (2)
Crystal - Gold Fever