Submitter
Submitted: Jul 17 2020 03:36 PM
Last Updated: Jul 19 2020 02:58 PM
File Size: 1.02MB
Views: 358
Downloads: 10
Previous Versions
Download Grab The Cash £35 Classic 1.0






0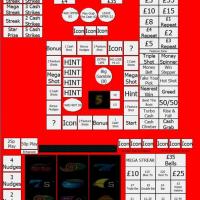 Here's a Clone of DOND- The Big Reds, titled Ant and Dec's Grab The Cash. Set on 25p/50p play, £35 Jackpot with a 82% payout.
This is another mute layout, but with the power of MFME V20, it runs perfectly without any errors.
Thanks to Reg for the reel symbols and Wizard for the MFME emulator.
Use MFME V20 Only.
Changed the feature names to the right ones, cash to the right ones, and the megas to the right ones.
Other files you may be interested in ..
7 user(s) are online (in the past 15 minutes)
0 members, 6 guests, 0 anonymous users
Bing (1)
Grab The Cash £35 Classic