Submitter
Submitted: Oct 16 2019 01:21 PM
Last Updated: Oct 16 2019 01:21 PM
File Size: 886.88KB
Views: 305
Downloads: 23
Download BFM Rose & Crown






0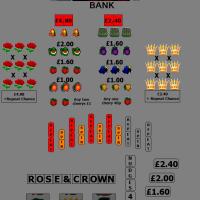 Here's Bell Fruit's Rose & Crown, a nice simple lo-tec machine that was probably designed for bingo halls and arcades.
This layout is a joint effort between myself, andy-1 and hitthesix.
Keyboard shortcuts in the notes section of the emulator.
 
Thanks to
Wizard for the emulator
The Rom & image provider.
 
Please use MFME V19.6 or later to play
 
Enjoy.
Other files you may be interested in ..
27 user(s) are online (in the past 15 minutes)
0 members, 26 guests, 0 anonymous users
Google (1)
BFM Rose & Crown