Submitter
Submitted: Aug 03 2018 07:00 pm
Last Updated: Aug 03 2018 07:38 pm
File Size: 19.13MB
Views: 924
Downloads: 245
Previous Versions
Download Club Snakes & Ladders £250 & £500 Dx's 6.1





3 Votes

0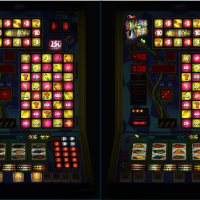 Next slithering up is these couple of clubbers Snakes & Ladders by bellfruit
 Both are on 90% roms unlike the original £250 layout(s) which were set on ferry roms @65%, but i expect they'll be tight as a crabs arse for sometime due to both being factory resets!!
 
Thanks goto
 
 Tommy C for the original £250 layout for lamping positions
 Ady for the £500 flyer used
 Banditboy06 for obtaining the £500 roms
 And to the uploader of the hi res bellfruit reel symbols used (except the bar which is homemade).
 
Shortcuts are as standard including the noteys which work as standard on these layouts,
 
 Play in the latest emulator release (MFME6.1+) which can be downloaded from the website listed within the notes.
 
  Enjoy and Happy Gaming!!!
 
a few lamps out on upper feature board
Other files you may be interested in ..
12 user(s) are online (in the past 15 minutes)
1 members, 11 guests, 0 anonymous users
Club Snakes & Ladders £250 & £500 Dx's