Submitter
Submitted: Oct 26 2017 08:32 pm
Last Updated: Aug 14 2018 07:41 pm
File Size: 7.52MB
Views: 1776
Downloads: 182
Layout Size: 1600 x 1200
Previous Versions
Download The Weakest Leek (Global) £250 DX v6.1 B





4 Votes

0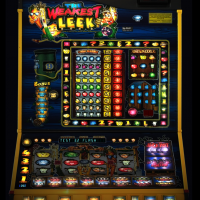 Firstly there was those famous Crazy fruits next came the Utterly Nutty nuts, we also had shiny jewels and the odd mexican bean and cactus.
 
    Now its the turn of the Manic Veggies in this new clubber to Fme by Global - The Weakest Leek, without a red head in sight apart from the odd tomato and carrot.
 
 Thanks goto-
 KillCrazy for the program roms
 Edwardb for uploading various global sound roms of which this was in need of them,
 to the Ebay seller whom i gained the image from a while back
 
  Shortcuts are - 
Start = Spacebar
Exchange = E
Feature Collect = F
Holds = 1,2,3,4
Hi = 2, Lo = 3
I'm crazy about Global button = G
Collect Shots = S
Collect Bonus = B
££'s in = 0
 
  Enjoy and Happy Gaming!!!!
corrected a incorrect symbol on reel three
carrot should've been a spud
cured the hopper fault change hopper to
universal II
Other files you may be interested in ..
4,018

Total Files

71

Total Categories

121

Total Authors

3,788,879

Total Downloads
Bar-X £5 & £10 Dx's Latest File

vectra666

Latest Submitter
12 user(s) are online (in the past 15 minutes)
1 members, 8 guests, 0 anonymous users
Bing (2), Google (1), RAINBOW RICHES
The Weakest Leek (Global) £250 DX v6.1