Submitter
Submitted: Jan 18 2018 10:39 pm
Last Updated: Jan 19 2018 04:47 pm
File Size: 1.92MB
Views: 937
Downloads: 80
Layout Size: 800 x 600
Previous Versions
Download Mortal Wombat - Impulse





1 Votes

0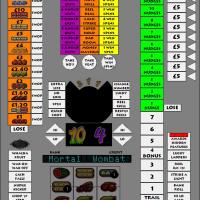 ***USE ONLY WITH MFME 6***
 
ALSO NOTE WE ONLY HAVE 1 SOUND ROM, SO SOME SAMPLES ARE MISSING, IF YOU OWN THIS MACHINE PLEASE GET IN TOUCH SO WE CAN GET IT DUMPED
 
Here we have Impulse's Mortal Wombat set to 25p Play and £25 Jackpot, not the nicest of combinations but Impulse as always with a great sound package and good, fair gameplay for the stake to JP ratio.
 
Thanks to:
 
Chopaholic for Auto play set up and his demonstration of the machine. His channel can be found here - https://www.youtube....vmgRBVeIVT8QgDQ
Tommy.C for the reels out his Wipeout DX
Wizard for MFME 6
 
Layout shortcuts can be found in the notes, to skip the warning please press space bar.
 
Enjoy!
Other files you may be interested in ..
11 user(s) are online (in the past 15 minutes)
0 members, 10 guests, 0 anonymous users
Bing (1)
Mortal Wombat - Impulse