Submitter
Submitted: Jan 20 2015 06:55 pm
Last Updated: Jan 20 2015 06:55 pm
File Size: 1.79MB
Views: 2559
Downloads: 223
Download Jackpot 7's £10/20p 1024Wdx






1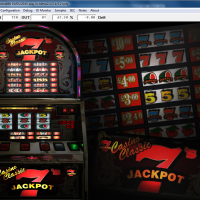 here's a classic machine to play  Project coin's Jackpot 7's £10jp....
 A big thankyou goes out to jonno/launton for firstly making a topic about his machine of which he placed this machine into a bright new shiny modern cabinet so in theory its the old machine in a new cab. Anyways i took an interest and pm'ed him for photo's to emulate his machine which he gladly obliged.
 
Thanks also to hitthesix for his original £10 layout of this for the roms although jonno did include his cash roms but afaik they're the same ones. also thankyou to compost corner for his £4.80p layout one of which never knew existed and an excellent one at that, of which i gained the correct lamping sequence for the win tables.
 Again this machine could do with a bigger res layout to bring it out better so if any biggy creators want the image's i used feel free to pm me.
 
 IF THIS LAYOUT ERROR'S ON START UP'S --" E40.3" EITHER LET IT TIME OUT OR RESET VIA CONFIGURATION!!!!
 
 Shortcuts are-
 start = spacebar
collect = c
 cancel = `
holds 1,2,3
££££'s in = 0
 
  THIS WILL ONLY PLAY IN MFME 2.1 OR 3.1/3.2 Not any other ones
 
   ENJOY AND HAPPY GAMING!!!!!
Other files you may be interested in ..
3,941

Total Files

71

Total Categories

117

Total Authors

3,770,056

Total Downloads
Cops n Robbers Deluxe Latest File

andy-1

Latest Submitter
12 user(s) are online (in the past 15 minutes)
0 members, 9 guests, 0 anonymous users
Bing (1), Google (2)
Jackpot 7's £10/20p 1024Wdx