Submitter
Submitted: Sep 06 2017 01:45 pm
Last Updated: Sep 06 2017 01:45 pm
File Size: 3.13MB
Views: 1573
Downloads: 102
Download Deal Or No Deal - Think Big 1.0






0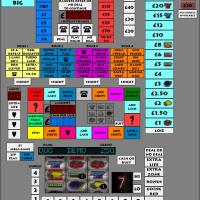 Another machine that didn't fair to well in the wild, suspect it was another failed test given the limited roms/scarce pictures.
A surprise given it shares a lot of elements with Let's Play Deal Or No Deal & that was rather successful & a favourite of many.
 
Shortcuts in the layout notes, left a picture of the machine in the archive as it's taken me a good 12 months to find one!
 
Uses the MFME Font which can be downloaded here if you don't have it - http://www.desertisl...e/55-mfme-font/
 
Enjoy!
 
 
Screenshots
Other files you may be interested in ..
19 user(s) are online (in the past 15 minutes)
1 members, 16 guests, 0 anonymous users
Bing (1), Google (1), JPM#555
Deal Or No Deal - Think Big